Individualized Dosing - Banner
Individualized Dosing - 1
WAPPS-Hemo (Web-Accessible Population Pharmacokinetics Service – Hemophilia)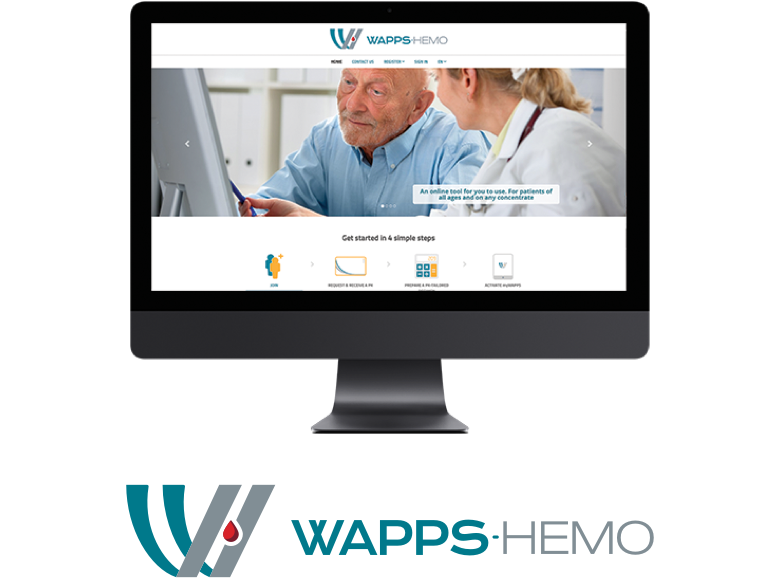 Optimizing hemophilia A care through individualized therapy with WAPPS-Hemo app
Did you know that you can optimize one-third of your hemophilia A patients' treatment regimens by applying pharmacokinetic (PK) data?1
WAPPS-Hemo, which takes a PK approach to treating patients with hemophilia A, makes it easier for you to individualize treatment regimens that are better suited for your patients. In fact, tailoring treatment to individual characteristics is an effective way to increase the clinical benefits of hemophilia care.1
According to the Medical and Scientific Advisory Council (MASAC)2:
Therapy should aim to keep the trough factor VII (FVIII) and factor IX (FIX) level above 1% between doses. Optimal dosing and frequency should be determined for each individual by appropriate laboratory monitoring.
Discover the advantages of WAPPS-Hemo
A web-based service that allows you to obtain individualized FVIII or FIX estimates for your patients with hemophilia
Based on a population PK approach
Requires minimal patient characteristics and patient samples to be entered into a secure database

Only 2 to 3 blood draws are required for a robust estimation of individual PK parameters

Has the advantage of a web-based calculator that forecasts individual PK parameters
Available free of charge
Individualized Dosing - 2
Individualized Dosing - 2.5
Learn more about WAPPS-Hemo from a healthcare provider
Hear from a hematologist as she shares her experiences with WAPPS-Hemo and describes how it has helped to empower both her and her patients with hemophilia A.
Individualized Dosing - 3
WAPPS-Hemo: Overview
Adult case study
Pediatric case study
Individualized Dosing - 4
myWAPPS app for your patients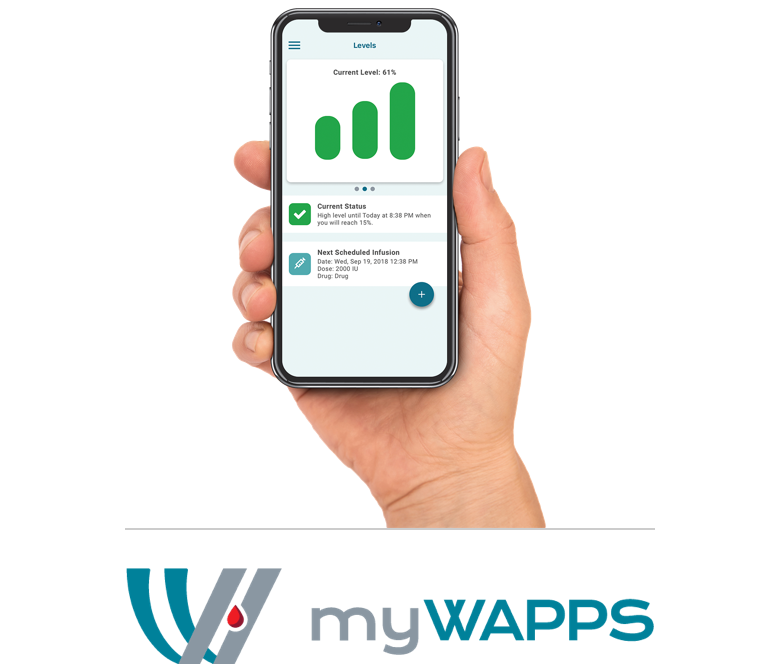 With the myWAPPS app, patients can view real-time estimates of their factor level at any time, online or offline, based on their individual PK study.
By activating the myWAPPS app for your patients on the WAPPS-Hemo website, you'll help your patients:
Monitor estimated factor levels, including estimated future levels
Receive notifications when factor levels may be dropping to the low zone
myWAPPS is now available in Apple's App Store and Google Play.


myWAPPS is sponsored by an unrestricted grant from Bayer.
Hemophilia A Dosing and Cost - ISI
Indications
ALPHANATE® (antihemophilic factor/von Willebrand factor complex [human]) is indicated for:
Control and prevention of bleeding episodes and perioperative management in adult and pediatric patients with factor VIII (FVIII) deficiency due to hemophilia A
Surgical and/or invasive procedures in adult and pediatric patients with von Willebrand disease (VWD) in whom desmopressin (DDAVP) is either ineffective or contraindicated. It is not indicated for patients with severe VWD (type 3) undergoing major surgery
Important Safety Information
ALPHANATE is contraindicated in patients who have manifested life-threatening immediate hypersensitivity reactions, including anaphylaxis, to the product or its components.
Anaphylaxis and severe hypersensitivity reactions are possible with ALPHANATE. Discontinue use of ALPHANATE if hypersensitivity symptoms occur, and initiate appropriate treatment.
Development of procoagulant activity-neutralizing antibodies (inhibitors) has been detected in patients receiving FVIII-containing products. Carefully monitor patients treated with AHF products for the development of FVIII inhibitors by appropriate clinical observations and laboratory tests.
Thromboembolic events have been reported with AHF/VWF complex (human) in VWD patients, especially in the setting of known risk factors.
Intravascular hemolysis may occur with infusion of large doses of AHF/VWF complex (human).
Rapid administration of a FVIII concentrate may result in vasomotor reactions.
Because ALPHANATE is made from human plasma, it may carry a risk of transmitting infectious agents, eg, viruses, the variant Creutzfeldt-Jakob disease (vCJD) agent, and, theoretically, the Creutzfeldt-Jakob disease (CJD) agent, despite steps designed to reduce this risk.
Monitor for development of FVIII and VWF inhibitors. Perform appropriate assays to determine if FVIII and/or VWF inhibitor(s) are present if bleeding is not controlled with expected dose of ALPHANATE.
The most frequent adverse drug reactions reported with ALPHANATE in >1% of infusions were pruritus, headache, back pain, paresthesia, respiratory distress, facial edema, pain, rash, and chills.
Please see full Prescribing Information for ALPHANATE.
You are encouraged to report negative side effects of prescription drugs to the FDA. Visit www.fda.gov/medwatch or call 1.800.FDA.1088.
References:
Iorio A, Keepanasseril A, Foster G, et al. Development of a Web-Accessible Population Pharmacokinetic Service—Hemophilia (WAPPS-Hemo): study protocol. JMIR Res Protoc. 2016;5(4):e239.
National Hemophilia Foundation. MASAC recommendation concerning prophylaxis (regular administration of clotting factor concentrate to prevent bleeding). https://www.hemophilia.org/sites/default/files/document/files/241Prophylaxis.pdf. Accessed March 20, 2019.