HCP-banner-alphane-hemophilia
Hemophilia Dosing and Cost - 1
ALPHANATE offers savings when treating patients with hemophilia A
Save with ALPHANATE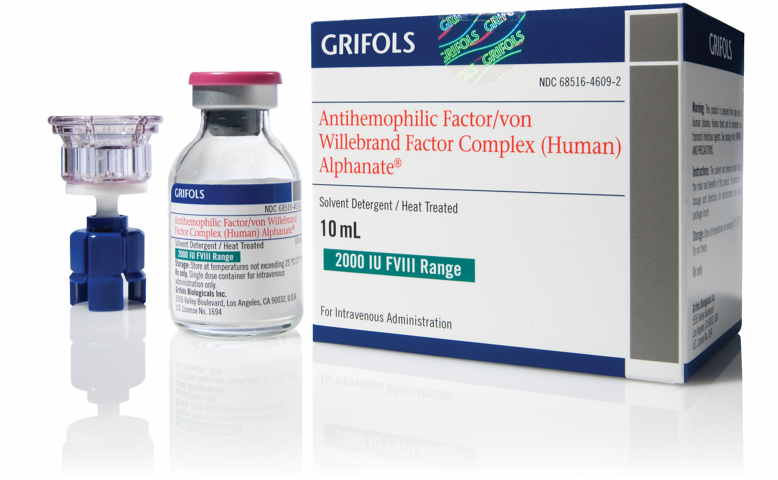 Calculate how much you can save using ALPHANATE for your patients with hemophilia A.
Hemophilia Dosing and Cost - 2
| Hemorrhagic event | Dosage (IU FVIII:C/kg body weight) |
| --- | --- |
| Minor hemorrhage Large bruises, significant cuts or scrapes, uncomplicated joint hemorrhage | Bring FVIII:C to 30% (15 IU FVIII/kg BID) until hemorrhage stops and healing is achieved (1 to 2 days) |
| Moderate hemorrhage Nose, mouth, and gum bleeds; dental extractions; hematuria | Bring FVIII:C to 50% (25 IU FVIII/kg BID) until healing is achieved (2 to 7 days on average) |
| Major hemorrhage Joint hemorrhage, muscle hemorrhage, major trauma, hematuria, intracranial and intraperitoneal bleeding | Bring FVIII:C to 80% to 100% for at least 3 to 5 days(40 to 50 IU FVIII/kg BID).Maintain at 50% (25 IU FVIII/kg BID) until healing is achieved. Major bleeds may require treatment for up to 10 days; intracranial bleeds up to 6 months |
| Surgery | Prior to surgery, bring level of FVIII:C to 80% to 100%(40 to 50 IU FVIII/kg).Maintain at 60% to 100% (30 to 50 IU FVIII/kg BID) for the next 7 to 10 days or until healing is achieved |
Hemophilia Dosing and Cost - 3
Dosage and duration of treatment depend on1:
Severity of the FVIII deficiency
Location and extent of bleeding
Presence of inhibitors
Patient's clinical condition
Make the most of ALPHANATE treatment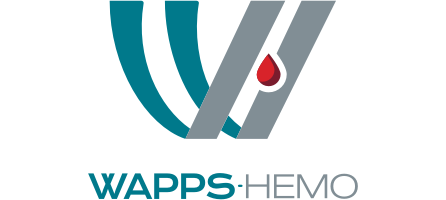 Optimizing treatment with WAPPS-Hemo
Discover how WAPPS-Hemo can help you optimize care for your hemophilia A patients.
Learn more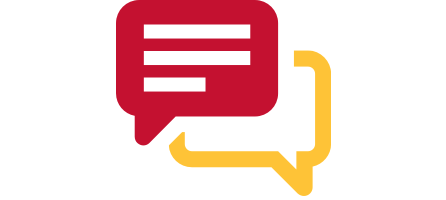 Have any questions?
Our specialty sales representative assigned to your territory will be glad to contact or visit you to answer any questions about ALPHANATE.
Request a representative
Hemophilia A Dosing and Cost - ISI
Indications
ALPHANATE® (antihemophilic factor/von Willebrand factor complex [human]) is indicated for:
Control and prevention of bleeding episodes and perioperative management in adult and pediatric patients with factor VIII (FVIII) deficiency due to hemophilia A
Surgical and/or invasive procedures in adult and pediatric patients with von Willebrand disease (VWD) in whom desmopressin (DDAVP) is either ineffective or contraindicated. It is not indicated for patients with severe VWD (type 3) undergoing major surgery
Important Safety Information
ALPHANATE is contraindicated in patients who have manifested life-threatening immediate hypersensitivity reactions, including anaphylaxis, to the product or its components.
Anaphylaxis and severe hypersensitivity reactions are possible with ALPHANATE. Discontinue use of ALPHANATE if hypersensitivity symptoms occur, and initiate appropriate treatment.
Development of procoagulant activity-neutralizing antibodies (inhibitors) has been detected in patients receiving FVIII-containing products. Carefully monitor patients treated with AHF products for the development of FVIII inhibitors by appropriate clinical observations and laboratory tests.
Thromboembolic events have been reported with AHF/VWF complex (human) in VWD patients, especially in the setting of known risk factors.
Intravascular hemolysis may occur with infusion of large doses of AHF/VWF complex (human).
Rapid administration of a FVIII concentrate may result in vasomotor reactions.
Because ALPHANATE is made from human plasma, it may carry a risk of transmitting infectious agents, eg, viruses, the variant Creutzfeldt-Jakob disease (vCJD) agent, and, theoretically, the Creutzfeldt-Jakob disease (CJD) agent, despite steps designed to reduce this risk.
Monitor for development of FVIII and VWF inhibitors. Perform appropriate assays to determine if FVIII and/or VWF inhibitor(s) are present if bleeding is not controlled with expected dose of ALPHANATE.
The most frequent adverse drug reactions reported with ALPHANATE in >1% of infusions were pruritus, headache, back pain, paresthesia, respiratory distress, facial edema, pain, rash, and chills.
Please see full Prescribing Information for ALPHANATE.
You are encouraged to report negative side effects of prescription drugs to the FDA. Visit www.fda.gov/medwatch or call 1.800.FDA.1088.