Plasma_donation_Process_banner
Plasma-Donation-Process-1
ALPHANATE is manufactured with safety and purity in mind
Plasma donation and collection
Grifols, the manufacturer of ALPHANATE, is a leading manufacturer of plasma protein therapies. Grifols owns and operates the world's largest plasma collection network with:
More than 300 FDA-approved plasma donation centers in the United States

Average 45,000 donations daily across the US*

Three state-of-the-art plasma testing labs in the US*

The Grifols Academy of Plasmapheresis,† which provides continuous training to Grifols staff
All of the plasma used to manufacture ALPHANATE is collected in one of the more than 300 FDA-approved plasma donation centers.
Plasma-Donation-Process-2
Plasma and clotting factors in your blood
The quality and safety of ALPHANATE begins with the collection of plasma, long before the manufacturing process even starts. Each potential donor must pass 2 medical exams and 2 plasma tests over a 6-month period. If the donor passes, he or she then must pass a health screening at each visit as well as an annual physical exam.
Each unit of plasma is tested after each collection using FDA-approved protocols to verify the donor's health status and determine the safety of the collected plasma. To help ensure safety, no plasma from any one-time donor is ever used in the manufacuring of ALPHANATE.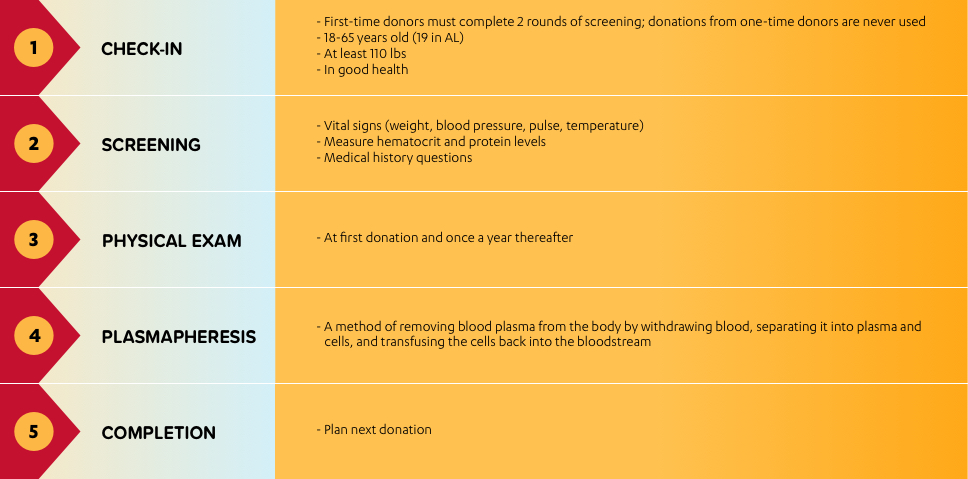 Plasma-Donation-Process-5
For more information about the plasma donation and collection process, visit www.GrifolsPlasma.com
Since product launch in 1997, there has never been a confirmed case of virus or prion transmission with ALPHANATE.
The manufacturing process for ALPHANATE was investigated for its capacity to decrease infectivity of an experimental agent of transmissible spongiform encephalopathy (TSE), considered as a model for the CJD and vCJD agents. TSE reduction steps include: 3.5% polyethylene glycol precipitation, affinity chromatography, and saline precipitation.
These studies provide reasonable assurance that low levels of vCJD and CJD agent infectivity, if present in the starting material, would be removed.
*Grifols internal source—2022.
†Plasmapheresis is the process of separating blood cells from blood plasma. It is used in the process of donating plasma. It was developed by Grifols in 1951.
Indication
ALPHANATE® (antihemophilic factor/von Willebrand factor complex [human]) is indicated for:
Control and prevention of bleeding episodes and perioperative management in adult and pediatric patients with factor VIII (FVIII) deficiency due to hemophilia A.
Surgical and/or invasive procedures in adult and pediatric patients with von Willebrand disease (VWD) in whom desmopressin (DDAVP) is either ineffective or contraindicated. It is not indicated for patients with severe VWD (type 3) undergoing major surgery.
Important Safety Information
ALPHANATE is contraindicated in patients who have manifested life-threatening immediate hypersensitivity reactions, including anaphylaxis, to the product or its components.
Anaphylaxis and severe hypersensitivity reactions are possible with ALPHANATE. Discontinue use of ALPHANATE if hypersensitivity symptoms occur, and initiate appropriate treatment.
Development of procoagulant activity-neutralizing antibodies (inhibitors) has been detected in patients receiving FVIII-containing products. Carefully monitor patients treated with AHF products for the development of FVIII inhibitors by appropriate clinical observations and laboratory tests.
Thromboembolic events have been reported with AHF/VWF complex (human) in VWD patients, especially in the setting of known risk factors.
Intravascular hemolysis may occur with infusion of large doses of AHF/VWF complex (human).
Rapid administration of a FVIII concentrate may result in vasomotor reactions.
Because ALPHANATE is made from human plasma, it may carry a risk of transmitting infectious agents, eg, viruses, the variant Creutzfeldt-Jakob disease (vCJD) agent, and, theoretically, the Creutzfeldt-Jakob disease (CJD) agent, despite steps designed to reduce this risk.
Monitor for development of FVIII and VWF inhibitors. Perform appropriate assays to determine if FVIII and/or VWF inhibitor(s) are present if bleeding is not controlled with expected dose of ALPHANATE.
The most frequent adverse drug reactions reported with ALPHANATE in >1% of infusions were pruritus, headache, back pain, paresthesia, respiratory distress, facial edema, pain, rash, and chills.
Please see full Prescribing Information for ALPHANATE.
You are encouraged to report negative side effects of prescription drugs to the FDA. Visit www.fda.gov/medwatch or call 1.800.FDA.1088.