ALPHANATE product design, storage, and administration
ALPHANATE packaging is designed with the unique needs of your
high-volume

FVIII users in mind
ALPHANATE is the only FVIII/VWF complex to offer the convenience of a large

2000-IU

vial size with low diluent volume1
The availability of a large

2000-IU

vial size with low diluent volume may provide greater convenience in the form of less volume, fewer syringes, and shorter daily infusion time
Five convenient vial sizes with low reconstitution volume1
| Potency | Diluent size | NDC number |
| --- | --- | --- |
| 250 IU FVIII range | 5 mL | 68516-4601-1 or 68516-4611-1 |
| 500 IU FVIII range | 5 mL | 68516-4602-1 or 68516-4612-1 |
| 1000 IU FVIII range | 10 mL | 68516-4603-2 or 68516-4613-2 |
| 1500 IU FVIII range | 10 mL | 68516-4604-2 or 68516-4614-2 |
| 2000 IU FVIII range | 10 mL | 68516-4609-2 or 68516-4615-2 |
| | |
| --- | --- |
| Potency | 250 IU FVIII range |
| Diluent size | 5 mL |
| NDC number | 68516-4601-1 or 68516-4611-1 |
| | |
| --- | --- |
| Potency | 500 IU FVIII range |
| Diluent size | 5 mL |
| NDC number | 68516-4602-1 or 68516-4612-1 |
| | |
| --- | --- |
| Potency | 1000 IU FVIII range |
| Diluent size | 10 mL |
| NDC number | 68516-4603-2 or 68516-4613-2 |
| | |
| --- | --- |
| Potency | 1500 IU FVIII range |
| Diluent size | 10 mL |
| NDC number | 68516-4604-2 or 68516-4614-2 |
| | |
| --- | --- |
| Potency | 2000 IU FVIII range |
| Diluent size | 10 mL |
| NDC number | 68516-4609-2 or 68516-4615-2 |
HCP-product-design-under-text
ALPHANATE can be administered at up to 10 mL/min
How to store ALPHANATE
ALPHANATE is stable for 3 years, up to the expiration date printed on its label, provided that the storage temperature does not exceed 77°F (25°C). Do not freeze.1
Easy reconstitution of ALPHANATE
To make reconstitution easier for your patients, a Mix2Vial® device is included in every package of ALPHANATE.
Watch the Mix2Vial® reconstitution demonstration below.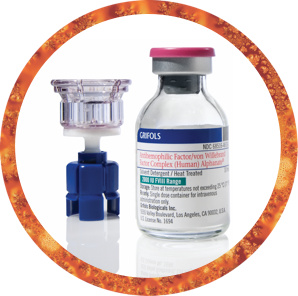 HCP-product-design-7_call-out_1
Administration of ALPHANATE
ALPHANATE is for intravenous use only after reconstitution. Patients should use plastic disposable syringes. ALPHANATE should not be refrigerated after reconstitution. Reconstituted ALPHANATE may be stored at room temperature (not to exceed 30°C) prior to administration, but must be administered intravenously within 3 hours. Discard unused contents into the appropriate safety container. ALPHANATE should not be administered at a rate exceeding 10 mL/min.
HCP-product-design-7_call-out_2
DemoPacks are available for instructional purposes to help patients, parents, and nurses familiarize themselves with this easy-to-use transfer set. Contents of the DemoPacks include: empty product vial, diluent (sterile water for injection USP 5 mL), and Mix2Vial® 15-µm filter transfer set.
HCP-product-design-7_call-out_3
To request DemoPacks, please contact Grifols Customer Service at 888-GRIFOLS (888-474-3657) or submit an electronic request
FVIII=factor FVIII; VWF=von Willebrand factor.
Important Safety Information
ALPHANATE is contraindicated in patients who have manifested life-threatening immediate hypersensitivity reactions, including anaphylaxis, to the product or its components.
Anaphylaxis and severe hypersensitivity reactions are possible with ALPHANATE. Discontinue use of ALPHANATE if hypersensitivity symptoms occur, and initiate appropriate treatment.
Development of procoagulant activity-neutralizing antibodies (inhibitors) has been detected in patients receiving FVIII-containing products. Carefully monitor patients treated with AHF products for the development of FVIII inhibitors by appropriate clinical observations and laboratory tests.
Thromboembolic events have been reported with AHF/VWF complex (human) in VWD patients, especially in the setting of known risk factors.
Intravascular hemolysis may occur with infusion of large doses of AHF/VWF complex (human).
Rapid administration of a FVIII concentrate may result in vasomotor reactions.
Because ALPHANATE is made from human plasma, it may carry a risk of transmitting infectious agents, eg, viruses, the variant Creutzfeldt-Jakob disease (vCJD) agent, and, theoretically, the Creutzfeldt-Jakob disease (CJD) agent, despite steps designed to reduce this risk.
Monitor for development of FVIII and VWF inhibitors. Perform appropriate assays to determine if FVIII and/or VWF inhibitor(s) are present if bleeding is not controlled with expected dose of ALPHANATE.
The most frequent adverse drug reactions reported with ALPHANATE in >1% of infusions were pruritus, headache, back pain, paresthesia, respiratory distress, facial edema, pain, rash, and chills.
Please see full Prescribing Information for ALPHANATE.
You are encouraged to report negative side effects of prescription drugs to the FDA. Visit www.fda.gov/medwatch or call 1.800.FDA.1088.
HCP-product-design-reference
Reference:
ALPHANATE® (antihemophilic factor/von Willebrand factor complex [human]) Prescribing Information. Grifols.